1099-MISC Software
Miscellaneous Income
Use the software today!
Order online and the shopping cart will e-mail you instructions on how to activate the software.
| | | | | | |
| --- | --- | --- | --- | --- | --- |
| | 1099-MISC for Paper Filing Only | $79.95 | | All 1098, 1099, 5498 and W-2G modules for paper and electronic filing. | $289.95 |
IRS Form 1099-MISC - Form 1099-MISC is most commonly used by payers to report payments made in the course of a trade or business to others for services. If you paid someone who is not your employee, such as a subcontractor, attorney or accountant $600 or more for services provided during the calendar year, then a Form 1099-MISC needs to be completed. The 1099-MISC also applies if you paid at least $10 in royalties or broker payments in lieu of dividends or tax-exempt interest and any fishing boat proceeds.

Our 1099-MISC software makes it easy to import from excel, print Copy B on plain paper with black ink and electronically file originals, corrections or replacement files directly to the IRS.
Outsourcing Solutions/What's New?

You must print, furnish Copy B to the recipients and paper and/or electronically file 1099-MISC by January 31 if you are reporting non-employee compensation payments in Box 7 (which is a very short deadline). If you are reporting data in any other box other than Box 7, you can paper file by February 28 or electronically file by March 31 which are the original due dates. You still have to print and mail Copy B by January 31.

Let our trained staff import your data from excel, print and mail, and electronically file on your behalf. We can help eliminate the stress of filing information returns by providing complete, secure outsourcing solutions for IRS Forms 1042-S, 1095, 1097, 1098, 1099, 3921, 3922, 5498, 8027, 8966, 8955-SSA and W-2G. Competitive pricing. Please call our sales office at (480) 460-9311 and they can provide an estimate of the cost. Stay compliant, reduce administrative costs and know that the job will get done right.


Import...
Type information on the screen as it would be typed on the form itself. Or import the data from Excel or some type of spreadsheet. Its easy to do. Sample excel worksheets can be downloaded from this site.

Print...
Print just the data on top of the red-ink Form 1096 and Copy A of Form 1099-MISC to paper file. You have the option to adjust vertical and horizontal printing offsets so that the data print perfectly on the red-ink forms.

Copy B, C, 1, and 2 can be printed on plain, letter size paper with black ink. A sample Copy B with instructions is below: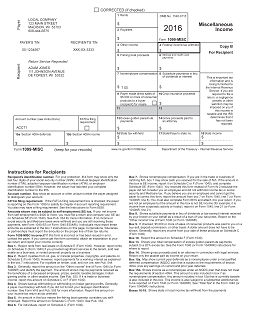 Copy B can be printed, bi- or tri-folded and stuffed perfectly into a #10 size, 2 window envelope and then mailed.

Or convert to PDF and email to clients.

File Information Returns Electronically
Our 1099-MISC software creates files in the format required by the IRS for electronic transmission. The system is updated each year to reflect the format changes that are made by the IRS.

1099FIRE is the only company to offer OneTouch E-Filing. Just click a button and the 1099 software will automatically log in and upload your file directly to the IRS FIRE system. You will receive verification within seconds of receipt of your file. When you efile with other software vendors, your data goes to that vendor server and then they efile and charge you per record. With our software, when you electronically file your data goes from your computer directly to the IRS.

Filing information returns electronically is cost-effective, is easier than filing on paper, and is more accurate. Filing status is available within 2 business days for Forms 1098, 1099 and W2-G.

When you file electronically, you are exempt from using pre-printed red-ink forms. You just need to print Copy B on regular paper and mail to each recipient by the due date.

Replacements, Corrections...
If you submit a file to the IRS and it comes back as BAD, you can prepare a replacement and re-submit. If you make a mistake on an information return, a correction should be filed as soon as possible. Our 1099-MISC software will create corrected files for electronic submission. There are 2-types of corrections: 1-step and 2-step corrections and our 1099-MISC software can prepare both types of corrections. The 1099-MISC software can prepare originals, replacements, corrections and test files.

Prior Years...
Not a problem. The 1099 software let's you select the current year or any prior year.

Support...
Free technical support during the tax season. Free live update feature helps us communicate with you, the customer, and keep you up-to-date with the latest form revisions.

We have a friendly and courteous staff that is available by phone during the day (and available by e-mail during the day and late at night and on weekends). If you have technical questions, please email or call support anytime.

Due Dates...
Furnish Copy B to the recipient by January 31. IRS Form 1099-MISC must be paper or electronically filed on or before January 31 if you are reporting non-employee compensation in Box 7. For all other reporting payments, paper file Form 1099-MISC by February 28 or file electronically by the end of March.

Articles...
New filing date for IRS Form 1099-MISC
Form 1099-MISC: Payments to Independent Contractors
What is IRS Form 1099-MISC?
I received a 1099-MISC for a monetary gift?
Which copy of form 1099-MISC do we keep?
Where can I get a blank 1099-MISC form for free?
IRS 1099-MISC Form For Contract Workers (More)
How to complete IRS Form 1099-MISC
What do I do with the 1099-MISC if the contractor I hired has moved?
IRS 1099-MISC Form for Contract Workers

Related...
1099-MISC software, form 1099-MISC, Miscellaneous Income, irs form 1099-MISC

Screen Shot...