FATCA 8966 Report Software
Foreign Account Transfer Compliance Act Report
Use the software today!
Order online and the shopping cart will e-mail you instructions on how to activate the software.
| | | | | | |
| --- | --- | --- | --- | --- | --- |
| | 8966 for electronic filing | $399.95 | | Complete 8966 Outsourcing. | $599.95 |
FATCA stands for Foreign Account Transfer Compliance Act. It was enacted in 2010 and requires the yearly reporting of US citizens non-US financial accounts. IRS Form 8966 is the FATCA report and the form that non-US financial institutions (or FFIs) fill out to report the identity and assets of such US citizens to the US Department of Treasury. The law is used to detect assets, rather than income. With Form 8966, the US collects and stores information including total asset value and the social security number.

IDES stands for International Data Exchange Service. IDES ( https://www.ides-support.com/) is a file transfer service developed by the IRS to accept Form 8966 FATCA reporting. The IDES system only accepts encyrpted XML files. A filer must have:

1. Either a GIIN or a FIN,
2. A valid email address
3. An authorized digital certificate to enroll with the IDES platform.

The FIN or FATCA Identification Number takes about 3 days to attain but the digital certificate from one of the IRS approved certificate authorities (CA) takes anywhere from 2-4 weeks to attain.

Form 8966 Software and Outsourcing

Our 8966 software lets you key in information as you would type on the form itself, print on plain paper with black ink or convert to PDF. Create the XML payload file for electronic filing according to IRS version 2. Our FREE IDES Packager will create the metadata file and follow these steps:

https://www.irs.gov/businesses/corporations/ides-data-transmission-and-file-preparation

to sign, encrypt, rename and package your XML file so that you can upload the resulting zip file to IDES for FATCA reporting.

This software is used worldwide by foreign financials institutions (FFI), sponsored entities or intermediaries.

Our 8966 software will prepare new, corrected, void and amended data files as well as new, corrected, void, amended test files for current or prior years.

Form 8966 Due Date and Time Extension

IRS Form 8966 is due by March 31st of the year following the reporting calendar year. However, financial institutions can apply for and receive an automatic 90-day extension of time to file Form 8966. This gives them until June 30th to efile. You can request this time extension by mailing to the IRS a paper Form 8809-I to the address:

Internal Revenue Service
FATCA, Stop 6052 AUSC
3651 South 1H 35
Austin, Texas 78741

This is no online option to request a time extension.

Last year, the IRS granted an automatic 90-day extension of time to file Form 8966 without requesting an extension. This year's requirement to request an extension of time to file Form 8966 may come as a surprise to certain institutions that are just beginning to learn about and prepare for the upcoming FATCA filing season.

FATCA 8966 XML Filing via the IDES Gateway

FATCA 8966 software can create the IRS XML file format for electronic filing. The software also includes a FREE proprietary IDES encryption or packaging tool shown below: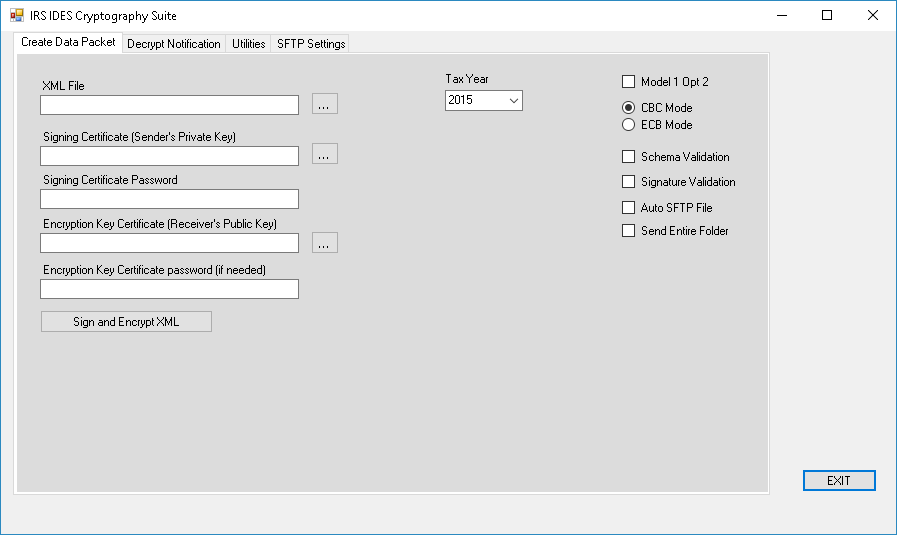 You can encrypt the XML file with your digital certificate and then upload to the IDES Gateway.

Let's talk

FATCA and IDES are both new. If you have questions, call us and we can help. We can efile Form 8966 on your behalf and encrypt using our digital certificate which we purchased from an IRS approved certificate authority.

Service Bureau...
Filing information returns can be stressful. We can help eliminate the stress of filing information returns by providing complete, secure outsourcing solutions for 1097, 1098, 1099, 3921, 3922, 5498, 8027, 8955-SSA, 8966, W-2G and 1042-S eFiling and Forms Management.

Stay compliant, reduce administrative costs and know that the job will get done right.