ACA Reporting Software and Outsourcing Solutions
IRS Forms 1095-A, 1095-B, 1095-C

1095 software for paper and electronic filing of IRS Forms 1095-A, 1095-B and 1095-C (and well as the respective transmittal summaries 1094-B and 1094-C). Import, print and securely efile 1095 information returns directly to the IRS.
Select the option that fits you best:
ACA Reporting Software for Individual Employer


Great option for a company with one EIN. Import your data from excel, print and mail, and create the XML manifest and data files for electronic filing.

$599.95*
ACA Reporting Software for Multiple Employers (Up to 25 unique EINs)


Allows up to 25 unique employer EINs. Import from excel, print and create the XML files for electronic filing.

$1299.95*
Professional ACA Reporting Software for Unlimited Employer EINS


Allows unlimited employer EINs and unlimited employee SSNs. Drag and drop multiple excel files which are automatically converted to PDF, automatically generates the XMLs and auto-validates.

$1599.95
Complete Outsource and Mailing Solution - Subject to Availability


A true turn-key solution. No software or TCC required. Our ACA experts work on your behalf to import and convert your data to the ACA forms required. We provide to you a PDF copy to review. Then print and mail to your employees and e-file to the IRS and receive IRS confirmation.

Mailing service starts as low as $0.80 per mailing plus postage. Outsource service sells out quickly and is subject to availability. Please call or sales office at (480) 460-9311 to discuss options.

As low as $999.95
* Individual employer option can import up to 5,000 employees. Multiple Employer option can handle up to 25,000 employees. Professional unlimited.

Our 1095 software does 3 things really well: it imports, prints and creates the XML files following the schema layed out by the IRS so you can electronically transmit to the IRS. Technical support is provided at no extra charge for the tax year that the software was purchased. Free live update feature helps us communicate with you, the customer, and keep you up-to-date with the latest form revisions.

Import...
Type information on the screen as it would be typed on the form itself. Or import the data from Excel (xls) or some type of spreadsheet. Its easy to do and we have sample excel spreadsheets.

Print...
IRS Forms 095-B (and its transmittal summary 1094-B) and/or Form 1095-C (and respective transmittal summary 1094-C) can be printed on plain paper with black ink. Or convert to PDF; its easy to print to PDF.

If your printer can print on both sides of a sheet of a paper (duplex printing), then you can print the 1095 form with its respective mailing addresses and instructions on the back of each form. You can then tri-fold and stuff in any #10 size, 2 window envelope and mail.

NOTE: With the duplex print option, you must print the entire file so as to maintain the integrity of the data. To print a specific record or a range of records, import and convert the entire file to PDF first. Then print the select pages from that PDF. Or reduce your excel file to just the records you want to print and print that entire file.

A screen shot of Form 1095-B is to the left. To the right is a screen shot of the instructions with mailing addresses: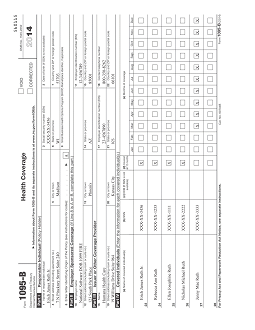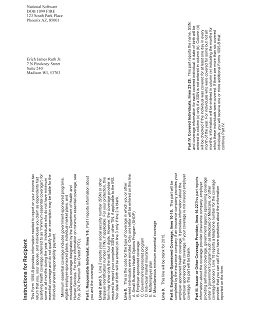 A PDF of Form 1095-B is here. Try downloading and printing. The offsets for the mailing addresses can be adjusted to get them to line up perfectly for almost any envelope. A PDF of Form 1095-C is here.


SSN Masking...

Social Security Masking is encouraged by the IRS. Print your employee copies of Form 1095-B and/or 1095-C with the SSN masked to look like XXX-XX-1234.

More sample print with instructions can be found here.

File Electronically...
Our software creates the manifest and data files in XML format required by the IRS for electronic transmission. Software includes TY2014 and TY2015 XML schema. Efile original files and/or corrections.

File an unlimited number of 1095 forms electronically with the IRS.

Complete Outsourcing...
We can import, print and efile any size order. Here are the steps to outsourcing.


1. Use our spreadsheet to provide the necessary data and transmit to us through Sharefile, our Secure extranet service. You will be assigned an account number and a representive who will handle the process from beginning to end.

2. With the excel file, we import, convert to PDF with SSN masking and send back to you for review.

3. You review. We can make changes.

4. When approved, we print and mail. We print the form and its respective mailing addresses on the back of the form. We tri-fold and stuff in #10 size, 2-window envelopes. All of this is automated.

5. Wait for feedback after the mailing.

6. When approved for efiling with all final changes, we transmit and send an IRS receipt to you confirming that the data is GOOD.


Mail Solutions...
We can handle all of your printing and mailing needs. We can print, tri-fold, stuff in pre-postage envelopes and mail any quantity. Prices as low as $0.60 cents per mailing plus applicable postage. We provide mail house solutions throughout the tax year. Extended hours are available during the tax season (January until April 31).

Call for pricing. Sales can be reached at (480) 460-9311 or info@1099fire.com.

SSAE-16 Certified Financial Processing Centers...
Our mail house is certified. SSAE-16 certification is a lengthy process an organization goes through by an independent auditing firm that analyzes every aspect of a business.

Professional Version...
The professional version lets you drag-and-drop multiple excel files at once into the software, the software then automates the following steps in order:

Create a folder named

[file name] Business Name


Generates a PDF of all of the 1095 forms and stores the PDF in that respective folder.
Removes and replaces prohibited characters.
Generates the manifest and data XML file for each respective employer and stores in its respective folder.
Validates the XML against current IRS schema and stores the results in a notepad file.
Generate the employee record report.
You drag-and-drop and sit back and watch the software function. If the validation results are 'XML is well-formed and valid', then the file is ready to transmit to the IRS. A well formed XML is one that has all tags closed in proper order; a valid XML is one that satisfies the IRS schema.

About National Software...
All data is securely transmitted via Sharefile. Sharefile creates an encrypted mailbox for each client to communicate and transfer data. The encryption is the same security protocol used by credit card processors and financial institutions.

1099FIRE is a subsidiary of National Software; a company that for over 34 years has developed law, tax and medical billing software.

1099FIRE can provide complete outsource services to create the necessary information returns and e-file on your behalf. Our secure service provides email confirmation of approval and receipt by the IRS of your data.

We serve hundreds of companies from every industry and of every size. We will be pleased to assist you with any importing, printing and mailing, and efile needs. Please feel free to contact us at (877) 543-6767 with any questions you may have.

Recent Blog Articles...
The Affordable Cart Act: Overview of Forms 1095-A, 1095-B, and 1095-C
You Received IRS Form 1095-A: Now What Do You Do?
You Received IRS Form 1095-B: Now What Do You Do?
You Received IRS Form 1095-C From Your Employer: Now What Do You Do?
Form 1095-C and 1094-C: Employer-Provided Health Insurance Offer and Coverage
Forms 1095-B (Health Coverage) and 1094-B (Transmittal): To Verify Minimal Essential Coverage Under Obamacare

Related...
1095 software, form 1095-b, health coverage, form 1095-c, employer provided health insurance offer and coverage