ACA Reporting Software
Includes Forms 1095-B (1094-B transmittal), 1095-C (1094-C transmittal)
Use the software today!
Order online and the shopping cart will e-mail you instructions on how to activate the software.
| | | | | | |
| --- | --- | --- | --- | --- | --- |
| | ACA Reporting Software for Individual Employer | $599.95 * | | ACA Reporting Software for Multiple Employer EINs (up to 15 unique EINs) | $1299.95* |
* Individual employer option can import up to 5,000 employees. Multiple Employer to 25,000 employees. Professional unlimited.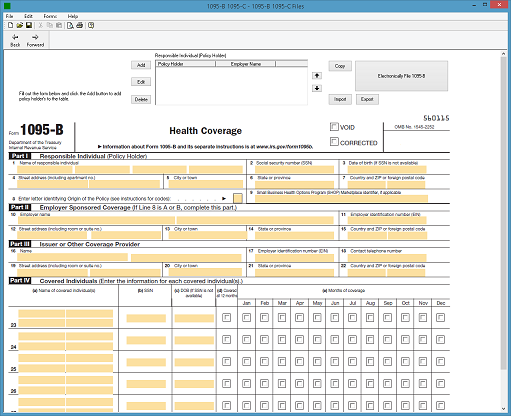 IRS Form 1095-B is used by health insurance issuers or carriers to report minimum essential coverage for all insured employers. Form 1095-B is used to verify that any non-ACA Healthcare Marketplace policies meet the ACA standard of minimum essential coverage. If your plan does not meet minimum standards then you will have to pay a penalty, known as the Shared Responsibility Payment.

Form 1095-B is the information return and the Form 1094-B is the transmittal summary.

Import...
Manually key in information on the screen as it would be typed on the form itself. Or import the data from Excel (xls, xlsx). Its easy to do and we have sample excel spreadsheets.

Print...
Print the forms on plain paper or convert to PDF.

Option to print both sides of a sheet of paper (duplex printing). With this option, you can print or convert to PDF the first page to show the mailing addresses of both the employer and employee then the second page is that respective Form 1095-B. The 3rd page is addresses and 4th page is the next 1095-B form and so on. If your printer supports automatic duplex printing, the addresses are printed on one side and the form on the other side. You can tri-fold and the form will fit perfectly for any 2-window, #10 size envelope so that the addresses align with the windows. Our printers are set to handle duplex printing of any quantity of 1095-C forms. Call our sales office at (480) 460-9311 for an estimate to have us print and mail.

File Electronically...
Our software creates XML file format required by the IRS for electronic transmission. Software includes TY2014 and TY2015 XML schema. Our software can electronically file original, replacement files, and/or corrections.

Outsourcing Solutions

Let our trained staff import your data from excel, print and mail, and electronically file on your behalf. We can help eliminate the stress of filing information returns by providing complete, secure outsourcing solutions for Forms 1095-B and/or 1095-C. Very competitive pricing. Please call our sales office at (480) 460-9311.

Stay compliant, reduce administrative costs and know that the job will get done right.


Saving Data...
Data entered may be stored/saved anywhere on your hard drive or to external diskettes for quick retrieval.

Due Date/Time Extension...
The due dates for the 2015 information reporting requirements under I.R.C. 6055 and 6056 have been extended for tax year 2015.

The due date for providing a copy of Form 1095-B or Form 1095-C to the employee was changed from January 31, 2016 to March 31, 2016. The due date for paper filing the ACA forms to the IRS was changed from February 29, 2016 to May 31, 2016. The due date for electronic filing of the ACA forms to the IRS was changed from March 31, 2016 to June 30, 2016.

Screenshots:
(when viewing these images in internet explorer, you might have to click on the image a 2nd time to view at full size)

1095-B Data Entry

1095-C Data Entry