Electronic Filing Software
1097, 1098, 1099, 3921, 3922, 5498 and W-2G
Use the software today!
Order online and the shopping cart will e-mail you instructions on how to activate the software.
| | | | | | |
| --- | --- | --- | --- | --- | --- |
| | All 1098, 1099 for paper and electronic filing. | $289.95 | | 3921, 3922 software with FIRE | $289.95 |
Our 1099 software makes it easy to import, print and/or electronically file IRS Forms 1042-S, 1097, 1098, 1099, 3921, 3922, 5498, 8027 or W-2G quickly and easily.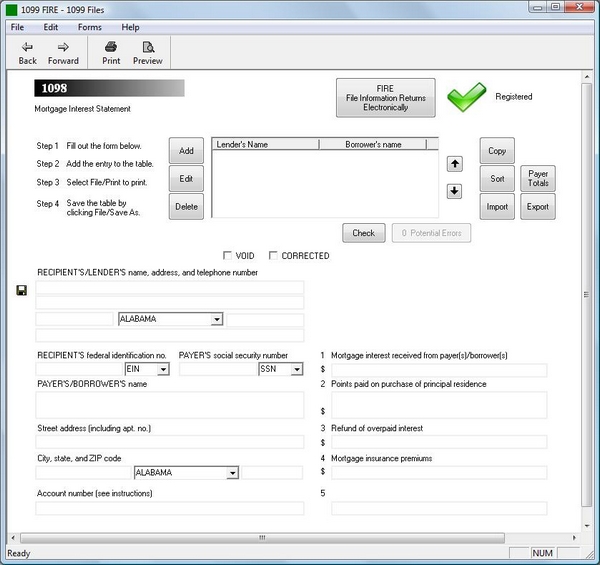 Data Entry/Import...

Type information on the screen as it would be typed on the form itself.

Or import the data from Excel (xls or xlsx), csv file format or some type of spreadsheet. Its easy to do and we have sample excel worksheets and csv files.

The IRS FIRE system can handle up to 2.5 million records per file. If you have more than 2.5 million records, we can help break the file into manageable sizes to upload.

Sample excel worksheets...

Print...
You can print just the data on top of the red-ink forms. Adjust the vertical and horizontal offsets so that your data prints perfectly on the red-ink forms every time.

Advanced printing features including:

- Align the data to print perfectly on red-ink forms

- Option to print Copy B with or without instructions and SSN masking

- Option to print Copy B customized for generic envelopes

- Convert to PDF and email to clients

- Copy B (and 1,2, C) can be printed on plain paper with black ink.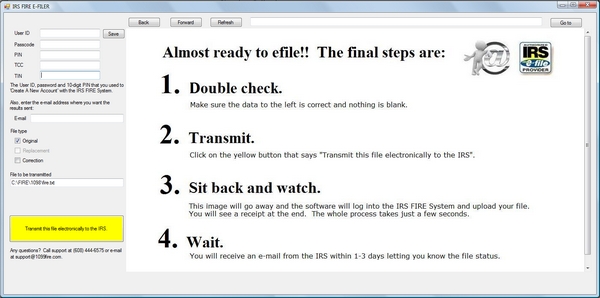 E-File...

Our 1099FIRE software creates original, replacement and corrected files in the format required by the IRS for electronic transmission. The system is updated each year to reflect the format changes that are made by the IRS.

Our standard e-file software can handle the filing of up to 2,500 recipient records. Larger projects will require the large data option module. Call our sales office at (480) 706-6474 for complete details.

1099FIRE is the only company to offer OneTouch E-Filing. Just click a button and the software will automatically log in and upload your file to the IRS FIRE system. You will receive verification within seconds of receipt of your file.

Filing Information Returns electronically is very cost-effective, is easier than filing on paper, and is more accurate. Filing status is available within 2 business days for Forms 1098, 1099 and W2-G and electronic filers receive a later due date for most returns.

All of our software functions on any Windows operating system. The 1099 software functions on networks or stand-alone personal computers and is compatible with all printers.

1099FIRE software is the hottest way to file information returns with the coolest results.