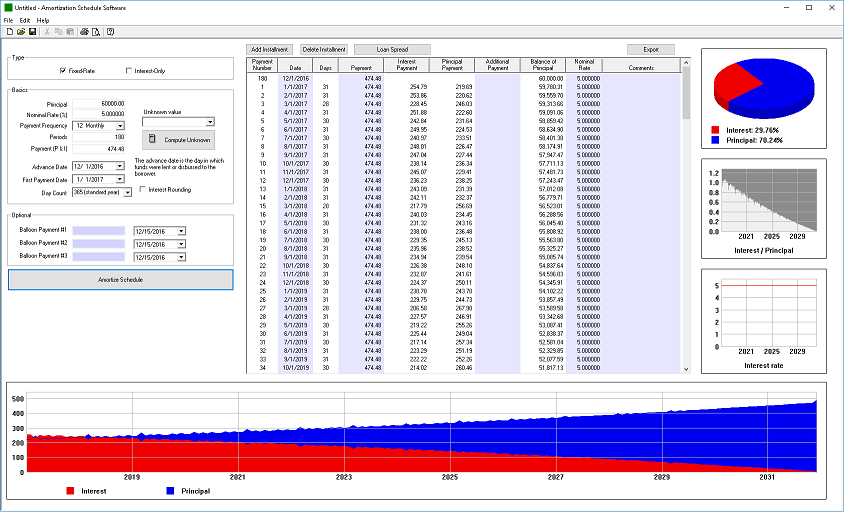 Amortization Calculator
Add, Edit, Delete Installments. Loan Spread. Export. Print. Solve for Unknown.
Use the software today!
Order online and the shopping cart will e-mail you instructions on how to activate the software.
| | | | | | |
| --- | --- | --- | --- | --- | --- |
| | Amortization Calculator | $49.95 | | 5-license Amortization Calculator | $148.95 |
Generate detailed fixed-rate amortization schedules, then customize the schedule by adding, editing or deleting installment payments. Add comments to document why variables have changed. Add additional payments or fees. View graphs and charts showing details of the repayment schedule. Print to paper or PDF. Export to excel.

The best way to learn more about our amortization software is to download the free trial located here. The trial has the principal amount locked at $60,000 but you can adjust any other value and add, edit and delete payments and get a feel for how the software functions.

Solve for Unknown

Our amortization software can calculate an unknown principal, nominal rate, number of periods or payment amount.

Loan Spread Calculator

Loan spread lets you compare loans at once and pinpoint specific details of any loan you choose. Which loan works best for you? Which loan will cost the most (or least) over time and how much more (or less)? Our loan spread will calculate these details.

See the big picture with a unique perspective on borrowing money! It automatically displays financial answers on a 2-dimension grid as you enter or update loan variables. You may easily view grids of loan amounts, interest rates, terms in months, or payment amounts based upon your loan variables. // insert image of loan spread



Save/retrieve. Export to excel.

Data entered may be stored/saved anywhere on your hard drive, to a shared network drive, or to external diskette for quick retrieval. You can export data directly to excel. Print

The software prints using the landscape portrait on letter size paper. You can also print preview the forms. A sample print out can be viewed here. The charts and graphs can be printed as well as the annual totals or summary.

Windows Operating System

Our amortization software functions on any windows operating system from windows 95 to windows 10 and is compatiable with all printers.

Even if you are fortunate enough to pay upfront for your home or car, or to pay a substantial down payment, you still may be better off to make a small down payment, take a sizable loan, and invest your funds in other ways. This decision depends on how favorable a loan you can negotiate and what alternative investment opportunities are available.