IRS Approved 1094/1095 E-Filing Vendor...
National Software, which developed and owns 1099FIRE, is an IRS Approved 1094/1095 Software E-Filing Vendor and Transmitter.

1094/1095 Software E-Filing Vendor

The IRS released the 1094/1095 forms in April of 2015 and we started developing the software then. On July 29, vendors could start test e-filing and we prepared, electronically e-filed and successfully completed all of the software tests required by the IRS. Our status was moved from Test to Production as shown here: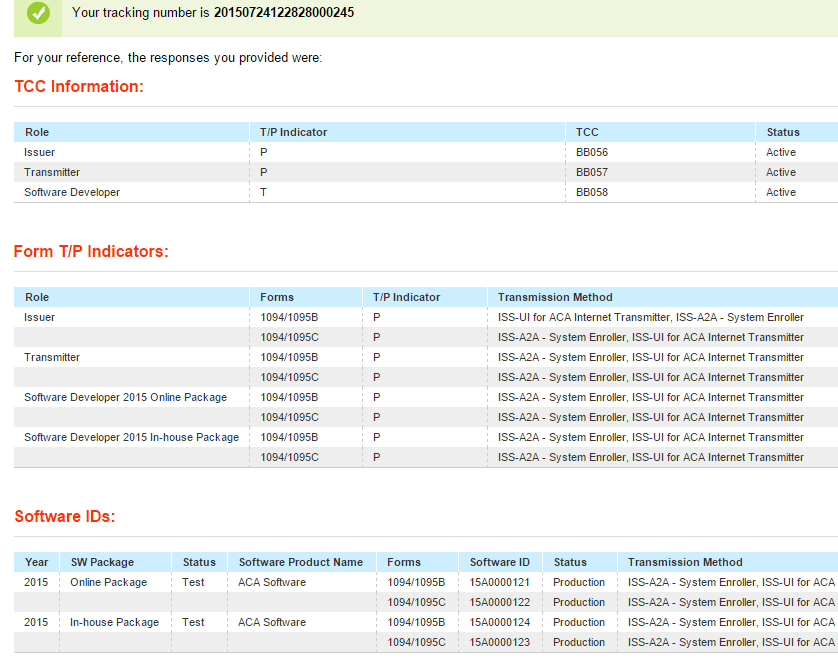 Our software has been added to a short list of IRS Approved 1094/1095 Software Vendors. We are excited to have developed a software application that will allow businesses of every size to properly comply with the new ACA requirements. Our software will prepare files for voluntary year 2014 as well as for tax year 2015.

We also learned every possible nuance with e-filing these forms. We have submitted 100s of test files to the IRS using the AIR User Interface (ISS-UI) Channel. Through that rigorous process, we were able to see potential errors and incorporate those error codes and error messages into the software to let you know about potential errors in efiling before you efile. The 1095 software generates a nifty report that you can review before efiling which identifies potential errors in your data.

Our 1095 software can prepare original, replacement files and corrections. You can import, print and efile IRS Forms 1095-B with the 1094-B transmittal summary and/or IRS Form 1095-C with its respective 1094-C transmittal summary.

E-filing Transmitter

It takes about 2-weeks to attain a transmitter control code (TCC number). With the TCC number, you can efile as many records as you like for as many different employers and employees.

We have a valid TCC number and approved software and can e-file on your behalf for as many employers and employees as you like. Each file that you transmit has the transmittal summary (that is, the 1094-B or 1094-C) and is followed by its respective 1095-C or 1095-B forms in XML format. Programatically we could make it so that a data file lists the transmittal summary and then its respective data records, then the next transmittal summary and its respective data records all in large XML file. But the IRS will only accept data files with one transmittal summary (one 1094-B or 1094-C respectively) and then its data records.

Call sales any time at 480-460-9311 and they can let know the cost to having us efile on your behalf. Sample excel import files can be found here:

https://www.1099fire.com/support/import/index.htm

Sample print with instructions is here:

https://www.1099fire.com/software/1095software.htm

SSAE-16 Certified Financial Processing Centers

Our mail house is certified. SSAE-16 certification is a lengthy process an organization goes through by an independent auditing firm that analyzes every aspect of a business.

About National Software

All data is securely transmitted via Sharefile. Sharefile creates an encrypted mailbox for each client to communicate and transfer data. The encryption is the same security protocol used by credit card processors and financial institutions.

1099FIRE is a subsidiary of National Software; a company that for over 34 years has developed law, tax and medical billing software.

1099FIRE can provide complete outsource services to create the necessary information returns and e-file on your behalf. Our secure service provides email confirmation of approval and receipt by the IRS of your data.

We serve hundreds of companies from every industry and of every size. We will be pleased to assist you with any importing, printing and mailing, and efile needs. Please feel free to contact us at (877) 543-6767 with any questions you may have.