Download and Activation
Downloading the software
You can download the software from this link:
http://www.1099fire.com/try_now.htm
You can download the software any time of the data and you can download as often as you like. If your copy of the software ever fails or becomes corrupted, re-download the software from the above link. Reinstalling wont affect your current registration or your data files.
Activating the software
To activate, open the software and write down the six digit User Identification number. Each computer will generate a unique 6-digit User Identification number and will require a unique passcode.
<![if !vml]>
<![endif]>
After you order, the shopping cart will ask you for the 6-digit User ID number that appears on your registration screen. Enter that ID number and the shopping cart will dispense a passcode (and e-mail a copy to you as well).
Put a check in the box for each module you purchased. If you purchased all of the modules for paper filing, click on Select All. If you purchased the electronic filing version, click on Select All and also put a check in the FIRE box. Then type in the passcode and the following box should pop up thanking you for the purchase.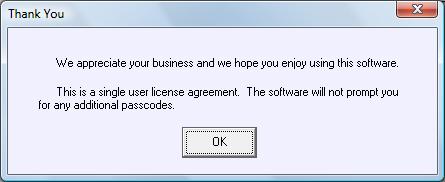 You can also email the 6-digit User Id number to info@1099fire.com or call (480) 460-9311 to to receive a passcode. From January till April 15, our phones are typically very busy and we get alot of e-mail. The quickest and easiest way to receive a passcode is through our shopping cart.
Multiple Licenses
If you purchased multiple licenses, you can return to Software Activation screen at any time to enter additional User ID numbers and attain those activation codes.

Problems Registering?
If you have any problem registering the software, please contact sales at (480) 460-9311 or by e-mail at info@1099fire.com.
Technical Support
If you have technical support questions, please e-mail support@1099fire.com or call (608) 444-6575 anytime. We have lots of information on our website, you can open a support ticket for us to review, or join and post a question on our yahoo group. We have a friendly and courteous staff that can resolve any technical support issue that might arise.
Please send an e-mail to info@1099fire.com with any comments you might have.